Nisbett, Claytine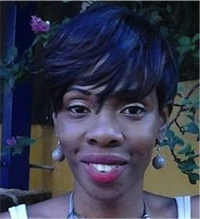 Claytine was born in Antigua but was raised in New York. Over the years she garnered a passion for community development and awareness, especially as it relates to gender equality and violence against women. She has expressed her writing talent through her blogs, short stories, poems, and now her first Novel, Life as Josephine.
Through her activism she emphasizes the importance for women to create and maintain positive relationships as a key agent in women's empowerment. Life as Josephine expresses this theme strongly.
She holds a BA in Sociology from Hunter College, is certified in Non-Profit Management, and is UN Woman trained in Advancing Transformational Leadership for Gender Justice. She currently lives on the island of Montserrat where her grandmother was born.
Claytine will be launching her Novel, Life as Josephine, at the 2017 Alliouagana Festival of the Word.