Keens-Douglas, Paul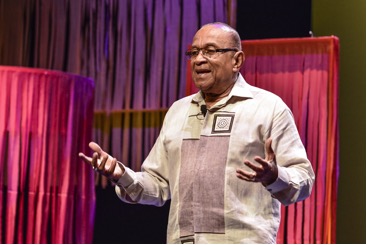 Known as Tim Tim in the theatrical world, Paul Keens-Douglas is one of the most eloquent and best-known raconteurs and social commentators in the English-speaking Caribbean. Born in Trinidad he spent his early childhood in Grenada where he attended Presentation Boys College.
He holds diplomas in Commercial Broadcasting and Radio/TV Production from Announcer Training Studios and RCA Institutes of New York, a B.A (Honors) Degree in Sociology from Sir George Williams University (Concordia), Montreal, Canada, has done two years post-graduate work at the University of the West Indies, Mona, Jamaica and has a wide and varied background in Theatre and the Creative Arts. His work profile includes Barclays Bank Grenada, Rediffusion Network, Radio Trinidad, McCann-Erickson (Trinidad) Ltd. And Northern Electric Co. Ltd (Montreal).
A self-published author he has to his credit nine volumes of work, fifteen albums, three videos, sixteen CD's and two DVD's. His work has been featured in many anthologies and well-known international publications and has been translated into French, German, and Japanese. A pioneer in the development of the oral traditions and the use of the vernacular as a literary form, he produces the annual Tim Tim Show and carnival Talk Tent which he started in 1983.
Wholesome and family oriented, his work has a wide appeal that covers all classes and age-groups and has given the world characters like Tanti at De Oval, Vibert, Sugar George, Bobots, Slim & Tall-Boy, Tingalae and others.
His awards include the Humming Bird Silver for Culture, Zora Neale Hurston for Folklore, Cacique for Drama, First Citizens Maestro Extraordinaire, Queen's Hall Anniversary Award and the Paul Harris Fellow from Rotary. An international performer, Paul makes regular tours of the Caribbean territories and metropolitan countries.
His company Keensdee Productions Ltd focuses on management and staff training, with an emphasis on inter-personal and cross-cultural communication. As such he has become a much sought-after Conference Presenter and Motivational Speaker.